Things That Fired Me Up: Childbirth
If you hadn't gathered, I'm pregnant! My husband and I have been so delighted to watch my ever-expanding belly come alive with baby kicks and flips. He has as much a pregnancy glow as I. Even so, a few things have still managed to fire me up. (You knew it was coming. It's why you clicked on the link!) I haven't had any of the infamous pregnant-belly touchings, but I have had my share of fired-up worthy comments.
Here are my faves:
1) "Are you planning on getting an epidural?"
For some reason, I've found that lots of people are curious about how I'm planning to give birth. Why do they care? I'm really not sure. It troubles me, though, that this question is automatically phrased in favor of the intervention. And you know exactly what they're after. They're trying determine if you're one of those people. If you're a fringe, crunchy, granola bar hippie with the ridiculous notion of giving birth au naturel. Why can't people either 1) not ask at all or 2) say something like, "What would your perfect birth experience be?"  Simple. No presupposed assumptions. And, dare I say, polite.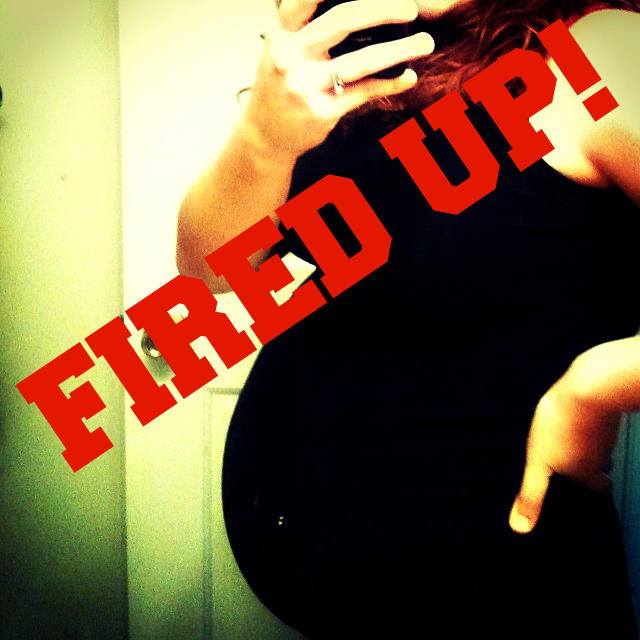 2) On natural childbirth: "Hope you can do it."
While I can't say I'm totally crunchy, I am planning on a natural childbirth. With the better part of human history on my side, I just don't think it's that unrealistic of a goal. But I honestly think every woman should have the freedom to plan her birth and be supported in her decisions. Of course I'd love to drop some Ina May Gaskin knowledge on you about the beauty of natural childbirth, but I am an advocate of supporting a woman's decision. Whether mom is planning an elective C-section or roaming into the wilderness to give birth while biting on a tree branch for pain relief, she should be completely supported. Let's encourage moms-to-be, not doubt them.
3) "Let me tell you about my [insert horrifying obstetric story here]."
If I didn't ask, I probably didn't want to know.
Not hating, just saying.
4) General responses to belly size.

Recently, I received two comments on the size of my belly during the same day. One woman, upon my answering that I'm 30 weeks pregnant, quickly told me me that I didn't look that pregnant at all. A few hours later another, upon hearing the same answer, quickly assured me that I was huge for 30 weeks and wouldn't make my January due date. Who to believe!? Maybe we can just let moms grow their babies, and not talk about how big or small their bellies are.
5) "O, you're pregnant!? When are you due? Are you have a boy or girl? What's her name? Are you going to breastfeed? What's her Social Security Number?"

Despite various opinions on my belly size, it's pretty clear that I'm pregnant. I've been really surprised, though, at the keen interest in my baby. The above quote is not an exaggeration – okay, except the social security number part. Random people want to know everything about this little girl! Pardon me, but I don't think I need to share details about my child you. Can we say stranger danger? Call me an overprotective first-time mom, but I think the interrogation is a bit excessive.
—
And that's about it for this edition of "Things That Fired Me Up". There's tons more, but I gotta keep those Oxycontin levels up!