Good Friends & Good Books: Blue Birds by Caroline Starr Rose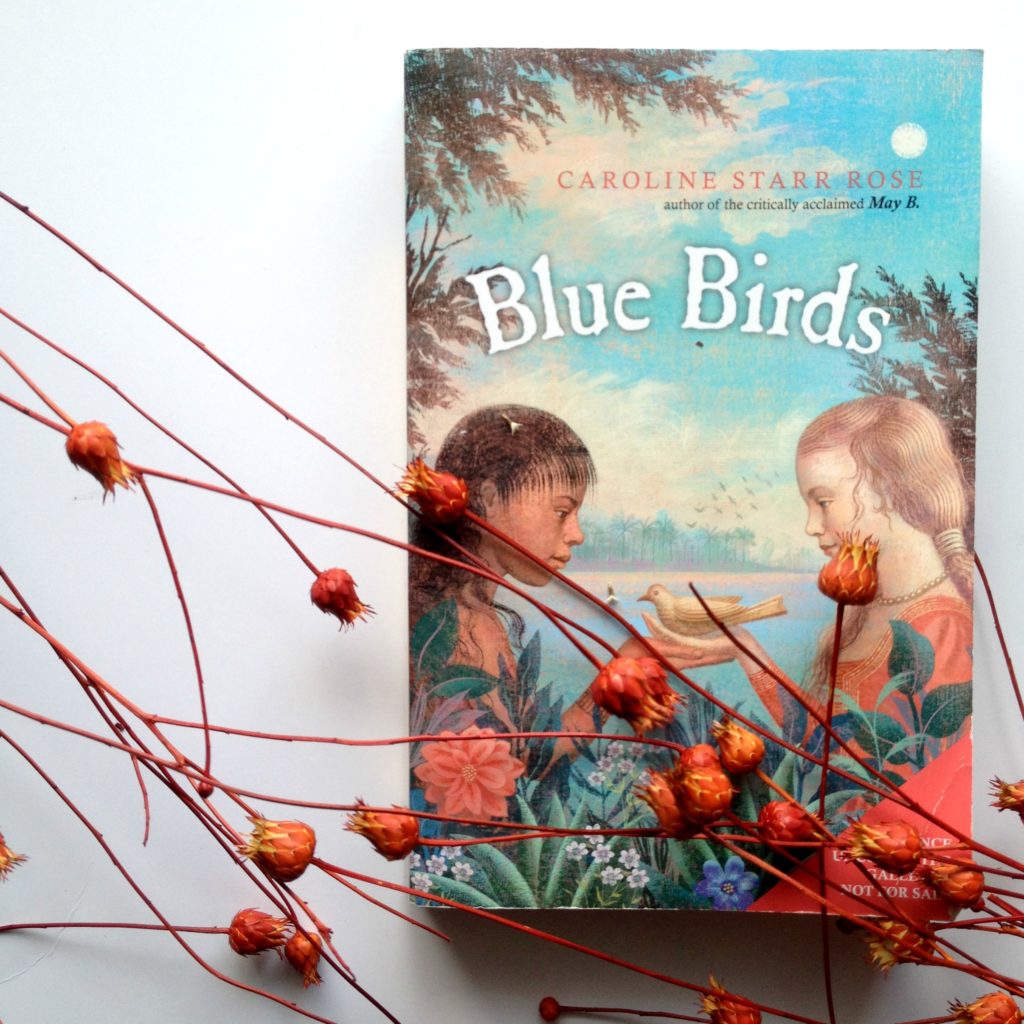 When did you realize you had made a friend for life?
It could have been when she helped you borrow the neighbor's canoe to have an Anne Of Green Gables-style adventure on the lake. (The neighbor who happened to be out of town…and didn't necessarily give you permission to borrow the canoe in question. But that's besides the point.)
It could have been when you explored a new country together, wanderlusters.
Was it that time you pulled an all-nighter, not to cram for a final, but to tackle life's big questions?
Speaking of college, perhaps it happened the weekend you attempted to bake gourmet desserts in an ill-equipped dormitory kitchen.
Maybe it was when you compared bellies and swollen ankles in your last trimesters, waiting for babies.
Reflecting on my best of friends leaves me feeling nostalgic and cozy, but also as if I'm on the cusp of adventure. And that is the same sort of feeling I got when reading Caroline Starr Rose's latest book, Blue Birds.
Navigating her role as the only girl in the English settlement of Roanoke, Alis is thrilled with the blue-sky freedom of the New World. Our plucky heroine Alis isn't content with keeping at her mother's skirts and cleaning house, though (don't blame her!) She frequently sneaks off to explore more of the Island, and it is through her exploring that she meets a Native American girl named Kimi. As if in real time, Kimi shares her perspective of meeting Alis, granting the readers a sort of dual reality. While Alis and Kimi forge a strong cross-cultural friendship, tensions between the Roanokes and English rise. The girls find themselves in the middle of political power plays, must question their own perspectives, and ultimately take a stand for what they know to be right.
Blue Birds is written in verse, which I found incredibly compelling. The only other verse novel I've read is Paradise Lost (and, if we're being perfectly honest, I actually skimmed that one. Sorry Dr. Crachiolo!) Though I'm a verbose person, I actually love the simplicity of poetry. Being able to say a lot in a few words is a skill, one that Caroline Starr Rose has near-mastered. Rose's debut novel, May B., was also in verse form and you can bet I'm putting that one on my reading list.
As I mentioned before, Blue Birds is one story told from dual perspectives: one of an English settler and one of a Roanoke native. I especially enjoyed scenes in which Alis' and Kimi's lines intersect with each other as they witness the same event. It was almost like watching a film, with fast action and telling close ups. At those points, for me, the story really lept off the page. You can see an example of what I mean in the photo below.
I know book reviews shouldn't be all glowy, but I honestly don't have any real criticism to offer. Caroline Starr Rose's dedicated journey to becoming a published author is inspiring. In reading her work it is evident she has spent years developing her craft and, so, has a great handle on plot and pacing. I enjoyed Blue Birds and heartily recommend it to you!
Side Note: I especially think this book would go over well with your teacher friends. I can see it making a unit on Early American history come alive, which makes perfect sense as Rose is a veteran teacher!
This post is part of a week-long celebration in honor of the book Blue Birds. Author Caroline Starr Rose is giving away a downloadable PDF of this beautiful Blue Birds quote (created by Annie Barnett of Be Small Studios) for anyone who pre-orders the book from January 12-19. Simply click through to order from Amazon, Barnes and Noble, Books A Million, IndieBound, or Powell's, then email a copy of your receipt to caroline@carolinestarrrose.com by Monday, January 19. PDFs will be sent out January 20. (You know my deep love of gallery walls, this print would look just perfect on one!)
Visit Caroline Starr Rose's site for more details, and to pre-order Blue Birds!
—
As growing older goes, time or distance have separated me from many of my best friends. But there is a part, an undeniable part, of them that has stayed with me. A part of them that has left me different. Changed for the better.
Just like a good book.