Carson's Nursery + A Free Printable Download!
After 7 months I finally feel comfortable enough with Carson's nursery to show it off. Though I consider myself a creative person, interior design is not my strong suit. While I love browsing Pinterest for inspiration – like this sleek boy nursery! – I get paralyzed when it comes time to execute. Additionally, we currently live the apartment life. There's only so much you can do with command hooks and white walls.
That's why I love The Nester's tagline, "It doesn't have to be perfect to be beautiful." Creative freedom, that is.
It has taken months of tinkering, and a whole lot of trial and error, to create Carson's little space. Years ago if you told me that one day I would be giddy over nursery decorating, I would have laughed. Yet here I am, giddy over nursery decorating. #momlife
 Mint, Gray, and Navy Blue Nursery
(Click image to enlarge!)
We chose a 4-in-1 convertible crib, this is the DaVinci Kalani in Espresso. I love the idea of having a bed that can grow with Carson. I think we'll do this for each of our kids. And, the best part is, it didn't break the bank! Paired with these gray Chevron crib sheets from Target. (Note: These links are *not* affiliate! I just want to cite my sources!)
Quilt (using as a play rug) from my dear friend Rachel. We have two quilts from her. I just love having legacy pieces with a story.
My mother-in-law recently made a similar wall installment for a wedding and I begged asked nicely if she would help me make one for Carson's nursery. She happily agreed! We used two similar lace curtains for the outer panels and one sheer curtain for the center. Then we safety pinned ribbons over top of the fabric. I imagine you could sew the ribbons if you're crafty like that! I tested a few different pom-poms for the accent, and ended up using this pom-pom garland (in gray) from Hobby Lobby.
In a shocking turn of events, I am now a pom-pom fan. No one is more surprised than I. These larger pom-poms are also a Hobby Lobby find. To make them a bit more exciting, instead of using the white string that came with the pom-pom, I tied gray ribbon to the center and thumb-tacked them to the ceiling. Safety pins, thumb tacks – Martha Stewart better hold on to her hat.
We've clocked maaaaaaaany hours in this rocker. Ben and I (read: Ben) painted an old bookcase we already had in her nursery colors. I'll link to our color palette at the bottom of this post!
I love making little collages. These two were made from different gifts and cards I'd been given; the "It's a girl" lettering is from her mini-gender reveal party we threw. We purchased the hanging "C" from BuyBuyBaby and painted it navy.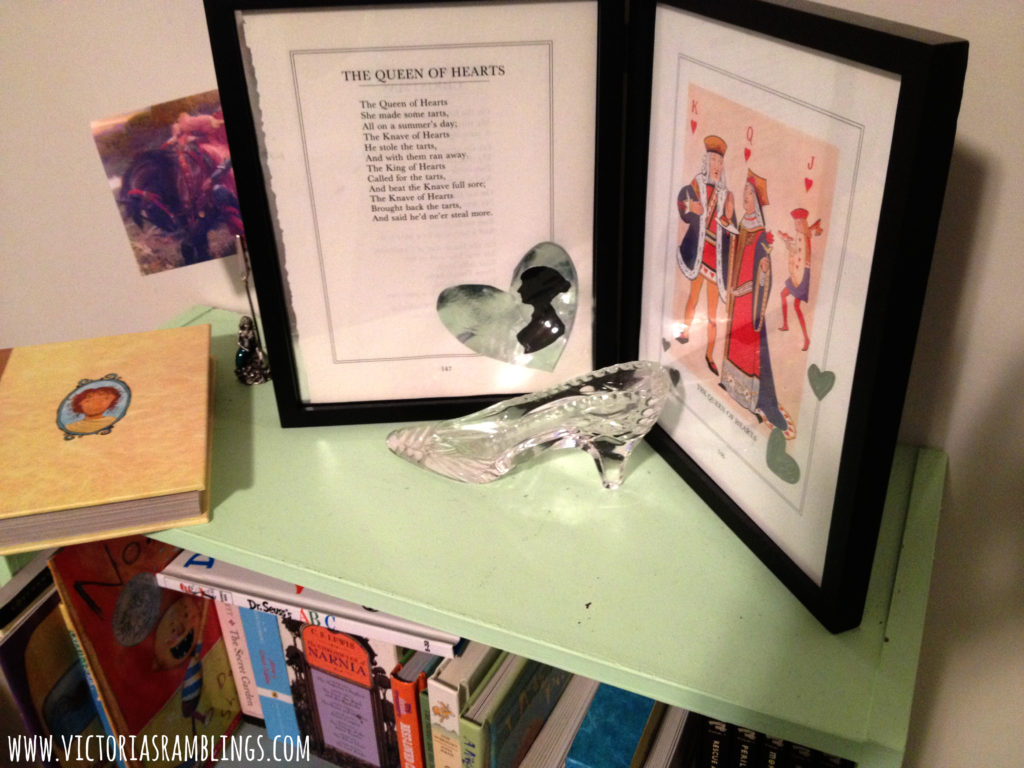 I ripped out these pages from an old book of nursery rhymes and had a bit of fun. I think the effect is sweet. The little glass slipper was a gift from my parents on my 5th birthday, celebrated at Disney World. And you'll notice that we use The Jesus Storybook Bible. Y'all. I can't tell you how much Ben and I are in LOVE with this book! It is by far the best children's Bible I've ever seen because it's not about the kids, it's about Jesus! We read a story (at least, most of a story!) at bedtime and will keep doing this until she graduates to reading the Scriptures herself.
We thrifted this dresser and painted it. May I just say I love the verb "thrifted"? Shopping at Goodwill because you're a young, broke couple never sounded so glamorous.
I designed this printable for her nursery using Canva.com and I'd love to give it to you. No email address required! I had this printed as an 16 x 20 at a local print shop.
Now, having said that, if you'd like to join my mailing list I'll be pleased as punch. I'm going to keep giving away little printables like this one as I make them exclusively to my mailing list.